Denim ensembles are not just for Jay Leno, believe it or not.  A denim shirt is a perfect option for spring and summer.  It's an easy look to put together that's comfy, chic, and casual.  There are lots of ways to wear them and many things you can pair them with.  Just read through my tips to help you find the right one and you'll look great!
(from left to right:
FOREVER 21 Classic Chambray Shirt Dark Denim Small

FOREVER 21 Mineral Wash Chambray Shirt Dark Denim Small

FOREVER 21 Classic Denim Shirt Light Denim Small
)
A great denim or chambray shirt is a must need in your wardrobe.  These first 3 are all from Forever 21 and under $30.  Super cute!  Ok, let's get down to it…
Here are my TIPS for wearing a denim shirt:
1. Darker Pants
In general, it's going to look better if you wear darker pants with your denim shirt.  If you're going to wear denim with denim, make sure the darker one is on the bottom…with ONE exception, white. White can be worn as pants with a denim shirt.
2. Oversized
The denim shirt should also be a little oversized.  Button up shirts these days should all be oversized.  Not like, "this shirt is so long it could a dress" oversized, just so that you can easily move around and not have the shirt pull on your back.  They look super chic with just the front of the shirt tucked into your pants a little.
3. A Waist
You should be able to tell that the denim shirt is tapered in at your waist a little.  You want to be able to see that you have one under your oversized shirt…or at least give the idea that you have one.  Make sure the shirt is not too boxy.  A little curve in the shirt near the smallest part of your waist will be most flattering.
4. Iron it
This should be a no brainer, but there is nothing worse that someone wearing a denim button up shirt that is not ironed.  It just ruins the whole look and makes it look sad. You don't want to look sad, do you?  Ok good, you'll iron it.
Here are some more from Nordstrom…
(from left to right:
Women's Current/Elliott 'The Perfect' Button Front Denim Shirt

Women's 7 For All Mankind Slim Boyfriend Denim Shirt, Size Small – Blue

Women's Halogen Long Sleeve Chambray Shirt, Size Large – Blue
)
This first look from above is the perfect way to wear blue denim with blue denim.  Like I said, darker on the bottom always.  It just looks better.  Darker looks heavier, and you should just be weighted at the bottom right?  Not the other way around.  I think the distressing on the jeans make the look that much better, too.  The way they're styled with just the front tucked in is also a trend from the 90's that's coming back.  I remember watching my sisters tuck the front of their oversized tees into their high waisted Girbauds.  Of course, that came along with big hair and big bows…something we won't be bringing back.  Ha ha.
One more thing to keep in mind.  If you wear anything else "western" inspired, you'll look like you came from the barn.  So, don't.  Wear some cute chunky jewelry and some heels…pumps, booties, sandals, or wedges.  Any type of heel will be great.  A great ballet flat would be cute too.  Here's the outfit I would put together: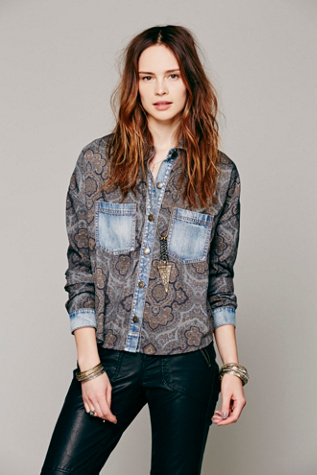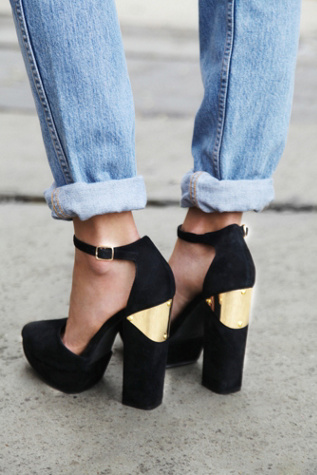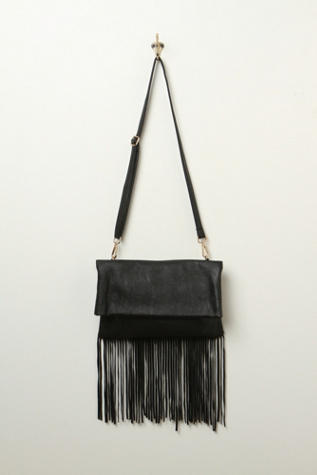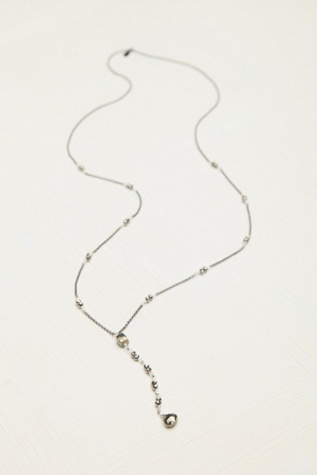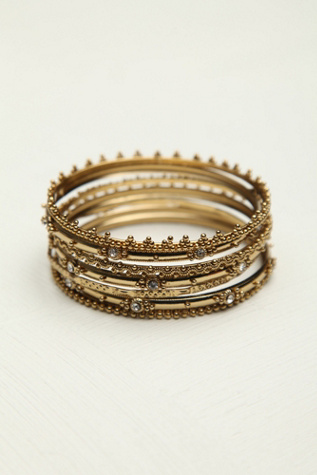 Shop FreePeople.com!
 (Also, click on the pictures to take you straight to buy those pieces!)
All from Free People!  Love it!
XOXO, Allie